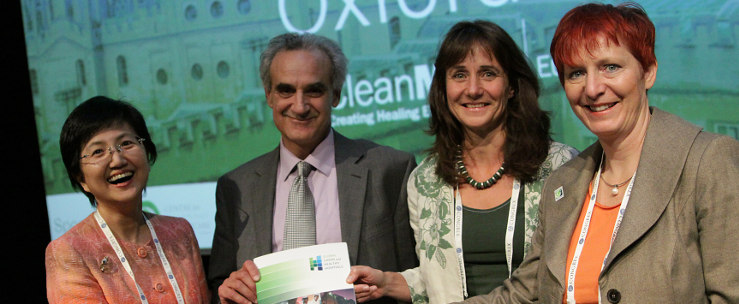 As an active and expansive network, HCWH Europe has helped set up a range of innovative and important projects. We are always interested in new ideas and are more than happy to discuss them with you. The following are some of the exciting projects that are currently running.
Global Green and Healthy Hospitals
The Global Green and Healthy Hospitals Network is a project by HCWH and is envisioned as a virtual community for hospitals, health systems and organisations seeking to implement and evolve the Agenda by charting progress in achieving measurable outputs, while sharing best practices and finding solutions to the challenges they share.
Website: www.greenhospitals.net
WIDES Database
To assess and control chemical risks arising from the application of disinfectants in Viennese hospitals, nursing homes, kindergartens and schools the City of Vienna developed a cost free online database – the WIDES Database. Together with the City of Vienna, HCWH Europe is contributing to the promotion and dissemination of the WIDES Database.
Website: www.wien.gv.at/wuawides/internet
EcoQUIP
The aim of the EcoQUIP project is to improve the efficiency, quality and environmental sustainability of healthcare through innovation procurement. The project will make progress towards this aim by creating an 'Innovation Procurement Leaders Group' of hospitals that have competence in innovation procurement and the capacity to pioneer new approaches to collaborative procurement.
Website: www.ecoquip.eu
Mercury-Free Health Care Initiative
HCWH and the World Health Organisation are jointly leading a global initiative to virtually eliminate mercury-based medical devices by 2017. The initiative is a component of UNEP 's Mercury Products Partnership.
To date, countries including Argentina, Chile, the European Union, Mongolia and the Philippines have instituted national (or regional) mercury-free health care policies. Dozens of other countries are moving in the same direction, piloting mercury-free health care, as the world's governments negotiate a global treaty to phase out mercury more broadly.
Website: www.mercuryfreehealthcare.org
Global Climate & Health Resource Center
The Global Climate and Health Resource Center is an HCWH initiative to mobilize the health sector to address climate change.
We are developing projects to educate and engage health professionals around the world on health impacts of climate change, including our bi-weekly Climate and Health News Service. To achieve these goals we are working closely with a number of major national and international health organizations to build a Global Climate and Health Alliance that will amplify the voice of the health sector on this most critical issue.
Website: www.climateandhealthcare.org
Global Health Care Waste Project
Health Care Without Harm, together with the WHO, is a principle cooperating agency in the United Nations Development Programme (UNDP) - GEF Global Healthcare Waste Project. The project is assisting seven countries -- Argentina, India, Latvia, Lebanon, Philippines, Senegal and Vietnam -- with the resources to implement best health care waste management practices in a way that is both locally appropriate and globally replicable.
In the process, model hospitals in these countries will be brought into compliance with the Stockholm Convention, which requires countries to give priority consideration to waste treatment processes, techniques and practices that avoid the unintentional formation and release of dangerous pollutants. The project's ultimate goal is to protect public health and the global environment from the impacts of dioxin and mercury releases.
Website: www.gefmedwaste.org
PVC-Free Blood Bag Project
The project, which is a part of the EU's Life+ Environmental Programme, will demonstrate that it is possible to produce a PVC-free blood bag that fulfills a requirement specification, including CE-labeling.
Website: www.pvcfreebloodbag.eu